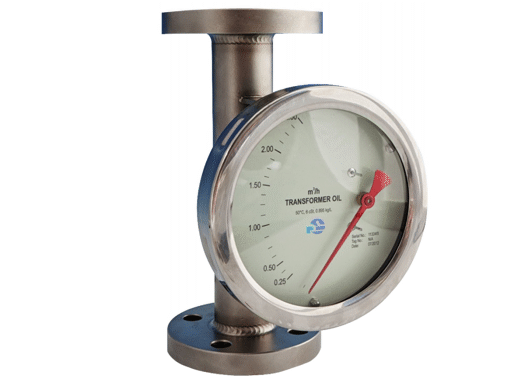 Project Description
Digital Metal Tube Rotameter with 4-20 mA and 2-Wire Transmission Output.
Stats
Accuracy - 98%
Performance - 95%
Maintenance - 50%
Sales rating - 75%
What is a Metal Tube Rotameter?
Metal Tube Rotameter is basically a Variable Area Flow Meter for measuring instantaneous flow rate of liquids, gases and steam applications. Metal Tube Rotameter is commissioned where there are demanding pressure and temperature constraints which a normal rotameter cannot withstand. Fully metal design body makes it a robust instrument and is extremely durable.
Scharf Automation manufactures Digital Metal Tube Rotameters which are fitted with an LCD screen with 4-20 mA / 2-Wire Transmission output, suitable for direct interfacing with PLC / SCADA system. 4-Wire Option for 4-20 mA output is also available with LED Display.
Working:
The essential working part is flow tube & precision machined magnetic float & assembly. The position of the float is sensed by a magnet and indicated on the dial in terms of flowrate by rack-and-pinion mechanism.
Installation:
It can be installed in line vertically upward & horizontally towards right or towards left.
Important Tips:
For higher accuracy applications,
Turbine Flow Meter
is recommended as Digital Metal Tube Rotameters have an accuracy of 2%.
Consistent and long term performance is eminent with Metal Tube Rotameter along with durability and quality.
Volumetric Flow Measurement
Robust and durable
Suitable for High Pressure / Temperature lines
Weatherproof/Flameproof Stainless Steel Body
Design & Calibration Confirrms to ISA-PR16.5 & ISA-PR16.6

Relay Output to drive Contactor / Actuator
4-20mA Flowrate/Batcher Output - Configurable
Accuracy +/-2%


Mechanical:
Electrical:


Media

: Liquids / Gas / Steam


Viscosity

200 cp max


Line Size

4inch NB


Density

Upto 2.95


Transmitter Enclosure

Weather-proof / Flame-proof, IP-65, IIA, IIB CMRI certified


Flange

MS / SS304 / SS316


Process Connections

150 NB ASA Flanged


Mounting

In-Line (Horizontal OR Vertical)


Transmitter Output

4 to 20 mA DC


Relay Output & Rating

Potentials Free Contacts & 5 Amp / 230 VAC


Display

6 Digit LCD


Power Supply

24 V DC External


Power Consumption

<10 VA


Response Time

< 50 m Sec


Connection Type

2-Wire

Performance:

Operating Conditions:


Linearity

+/- 1%


Accuracy

+/- 2% F.S.


Repeatability

+/- 2%


Normal Temperature

0 to 55 C


Process Temperature (Max.)

150 degC max


Process Pressure (Max.)

as per requirement


Humidity

5 to 95% non condensing

1. Metal Tube Rotameter With Flow Alarm Switch Adjustable Throughtout Flow Range.

2. Metal Tube Rotameter With 4-20 mAmp Transmitter & Totalizer

3. Metal Tube Rotameter With Steam Jacket

4. Horizontal Metal Tube Rotameter

5. Horizontal Metal Tube Rotameter With Flow Alarm Switch Adjustable Throughtout Flow Range.

6. Metal Tube Rotameter with Rear Side Connection